The more surveys you create, the more you'll find that there are always questions you'll want to include in surveys. Once this repetitive nature has occurred to you, you will make use of the Question Bank
Navigation for User - Survey
The Question Bank is ultimately a database of questions you create, that you can easily add to your new survey without having to create the question from scratch. You will find this database in the Work Center View Question Bank, where you will find an overview of all questions.

Each question can have the Status Active, Obsolete or In preparation. You can add only the active questions to your survey. All questions that are still in preparation can be deleted from the Question Bank using the Trash-Action

 button. The status of each question can be changed in the Question Detail View by clicking on Actions and then on the status you would like to set.

You can add new questions to your Question Bank in two different ways. The first option would be by clicking on the Create

 icon in the Work Center View itself. The second option is when creating a new question in the Design tab of your survey. If you then decide that you will need this question more often in the future, then you can do this directly with the Add to Question Bank button. You can add except for the Question Type Section and Signature all Question Types to the Question Bank.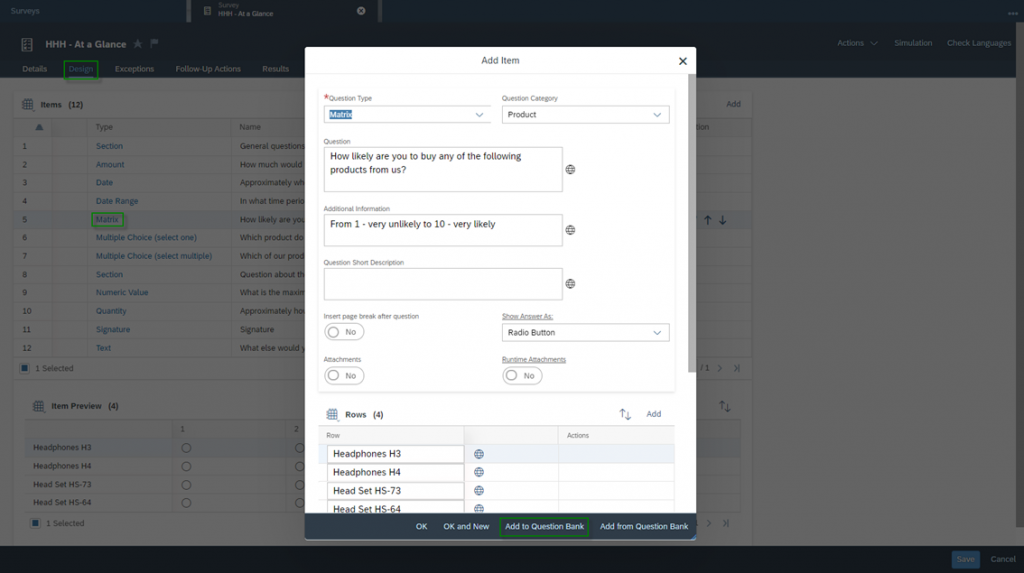 To add a Question from the Question Bank to your Survey click on Add from Question Bank and select the Question you would like to Add. After adding it, you can still adjust some settings of this Question.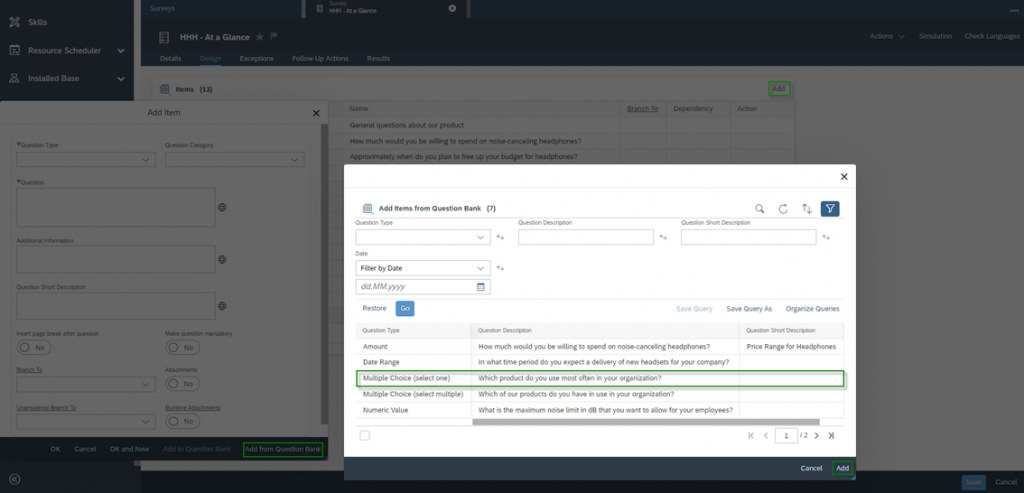 The Customer Experience team at Camelot ITLab deals with exciting and challenging CRM related topics every day and serves a large portfolio of different customers from a wide range of industries. Trust in this collaboration and feel free to contact us at tlil@camelot-itlab.com.
Was this article helpful?
If you like our content we would highly appreciate your review on Trustpilot
#SAP C4C #SAP Cloud 4 Customer #Cloud 4 Customer #Cloud for Customer #SAP Sales Cloud #Sales Cloud #Survey #Question #Bank #Question Bank