Design for Survey Category Competitor Products
The olympia principle says that only the best is remembered and gets the most of the cake. Very few people go for silver and bronze. Therefore, it is important to constantly strive to improve your products so that they outshine those of your competitors. With the Competitor Products category survey, you have the opportunity to get specific answers about products so that you can submit improvement actions to your product management
Navigation for User - Survey
After you have created your survey from this category, you can add the products in the Competitor Products tab using the Add button. For each product you see in the figure below, you will be asked the same question you add in the Design tab, which means all questions are competitor product related. There is the question type Competitor Product Extension Fields especially for this category, where you can add extension fields from this Business Object in your survey.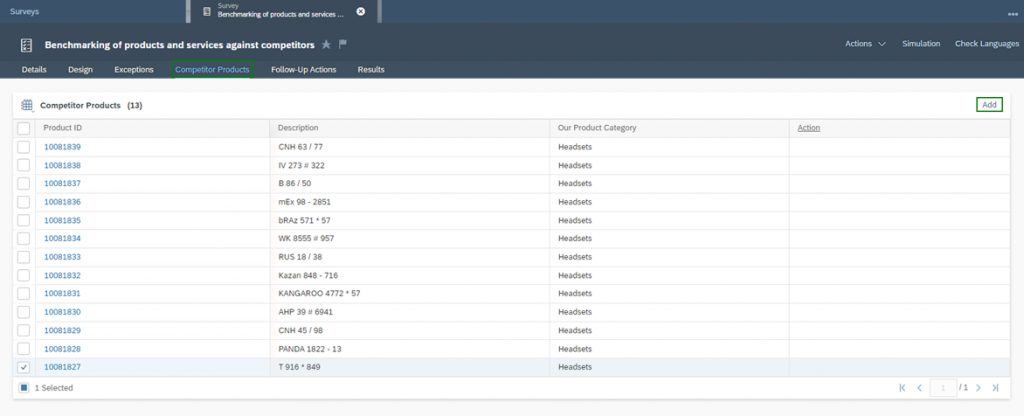 A survey of the Competitor Products category is very similar to a survey of the Products category. Here you can activate the Matrix View and the Penetration properties, as well as the Previous Runtime Products feature. An example visualization of how a survey for Competitor Products can look like can be seen in the following figure.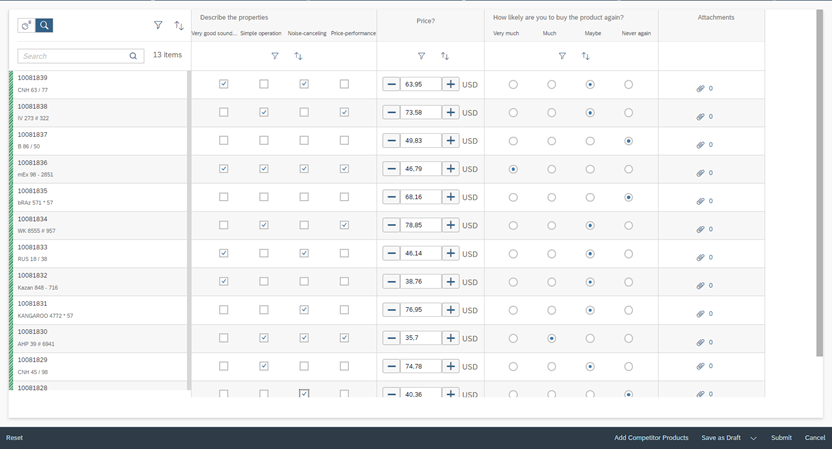 In the table below you will find an overview of which features you will find here as a supplement in comparison to the survey category Checklist or which features are not to be found in the category Competitor. As you may recognize, these are the same entries as in the survey for products.
Section

Missing Features

Supplement Features

General

–

·      Previous Runtime Products

·      Matrix

·      Pagination for Matrix View

Design

–

·      Competitor Product Extension Fields

Question Types

–

·      Competitor Products

Tabs

–

–
The Customer Experience team at Camelot ITLab deals with exciting and challenging CRM related topics every day and serves a large portfolio of different customers from a wide range of industries. Trust in this collaboration and feel free to contact us at tlil@camelot-itlab.com.
Was this article helpful?
If you like our content we would highly appreciate your review on Trustpilot
#SAP C4C #SAP Cloud 4 Customer #Cloud 4 Customer #Cloud for Customer #SAP Sales Cloud #Sales Cloud #Survey #Category #Competitor #Products #Competitor Products #Matrix #Penetration