Design for Survey Category Satisfaction
Surveys from the satisfaction categories are mainly used to conduct either customer surveys or also employee surveys. The medium is mostly an e-mail, which is why the design - i.e. the visual appearance - plays an important role here in addition to the wide range of question types.
Navigation for User - Survey
You will find all common question types such as Matrix, Text, Date, Multiple-Choice, Numeric, etc. In the table below you will find an overview of which features you will find here as a supplement in comparison to the survey category Checklist or which features are not to be found in the category Satisfaction.
Section

Missing Features

Supplement Features

General

·      Previous Answers

·      Follow Up Task

–

Design

–

Design such as Fonts, Colors, Logo, etc.

Question Types

–

Equal

Tabs

·      Exceptions

·      Follow Up Actions

–
So, the focus here is only on the design possibilities. Go to the Design tab of your survey. Here you can see the design options for your survey on the right side.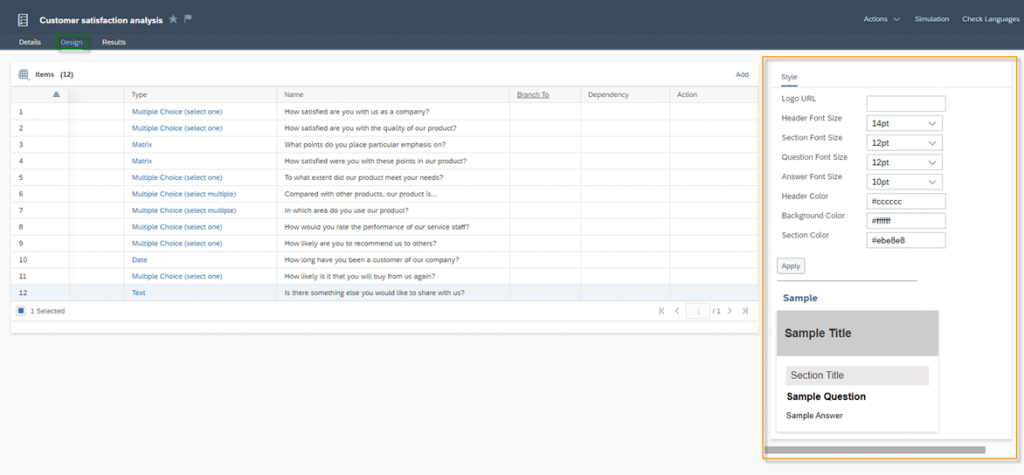 You can set the following design elements:
Logo URL
Header Font Size & Color
Section Font Size & Color
Question Font Size
Answer Font Size
Background Color
In the lower right corner of the Style section, you will see a preview of your customizations. Once you are satisfied with the layout, click the Apply button.
The Customer Experience team at Camelot ITLab deals with exciting and challenging CRM related topics every day and serves a large portfolio of different customers from a wide range of industries. Trust in this collaboration and feel free to contact us at tlil@camelot-itlab.com.
Was this article helpful?
If you like our content we would highly appreciate your review on Trustpilot
#SAP C4C #SAP Cloud 4 Customer #Cloud 4 Customer #Cloud for Customer #SAP Sales Cloud #Sales Cloud #Survey #Category #Satisfaction #Design #Font Size #Font Color #Logo URL #Style