Design for Survey Category Competitors
By constantly monitoring your competitors, you can exploit important competitive advantages. Especially in times of digitalization and globalization, the market is fast-moving: Within a very short time, a competitor can gain a competitive advantage unnoticed. Therefore, it is important to use surveys with the category Competitor. This helps you to find out important information, Which helps you to decide on the next sales activities
Navigation for User - Survey
After you have created a survey of this category, in the next step you can add the competitors to your survey in the Competitors tab using the Add button.

Next, you need to create the questions in the Design tab. Each question you specify here refers to each competitor you have added. A survey of the Competitor category is very similar to a survey of the Products category. Here you can activate the Matrix View and the Penetration properties. An example visualization of how a survey for Competitor can look like can be seen in the following figure.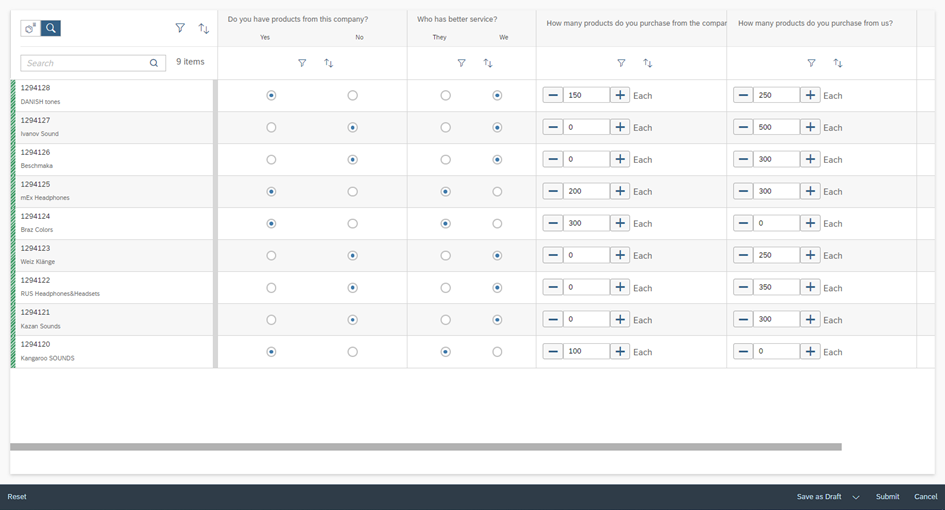 In the table below you will find an overview of which features you will find here as a supplement in comparison to the survey category Checklist or which features are not to be found in the category Competitor.
Section

Missing Features

Supplement Features

General

·         Previous Answer

·      Matrix

·      Pagination for Matrix View

Design

–

–

Question Types

–

–

Tabs

–

·    Competitor
The Customer Experience team at Camelot ITLab deals with exciting and challenging CRM related topics every day and serves a large portfolio of different customers from a wide range of industries. Trust in this collaboration and feel free to contact us at tlil@camelot-itlab.com.
Was this article helpful?
If you like our content we would highly appreciate your review on Trustpilot
#SAP C4C #SAP Cloud 4 Customer #Cloud 4 Customer #Cloud for Customer #SAP Sales Cloud #Sales Cloud #Survey #Category #Competitor #Matrix #Penetration