Understand The Basics as a User
Refreshing
If you are using SAP Sales Cloud as a User, it is essential that you understand the basics before you go into detail. Basically, it's important to understand how the Cloud is structured, how you can quickly find information - i.e. Search and Filter - how to personalize your information so that you can work with it perfectly and how to use the Feed function, Calendar and Messages.
Navigation for User - Understand the Basics
Now we will deal with a topic – which is theoretical – but still important to understand: Refreshing. Every time a user opens a Work Center View, Quick View or an Object, the image shown is a snapshot. You have to imagine that many different Users are working in the System and data is permanently changed, new objects are added or obsolete data is deleted. So it is quite conceivable that when you open your Account list – as shown in the example below – and have this list open for a bit longer – that another User changes this data. But you would only see that when you refresh this list. You will find the Refresh Icon

 in several places in the system, which always refreshes only the current place. For performance reasons, SAP has decided not to have the system update itself automatically after each change. The refreshing of lists is especially important when several Users work from one worklist and, for example, always work from top to bottom (sorted by Creation Date). This list must always be updated before assigning the next task.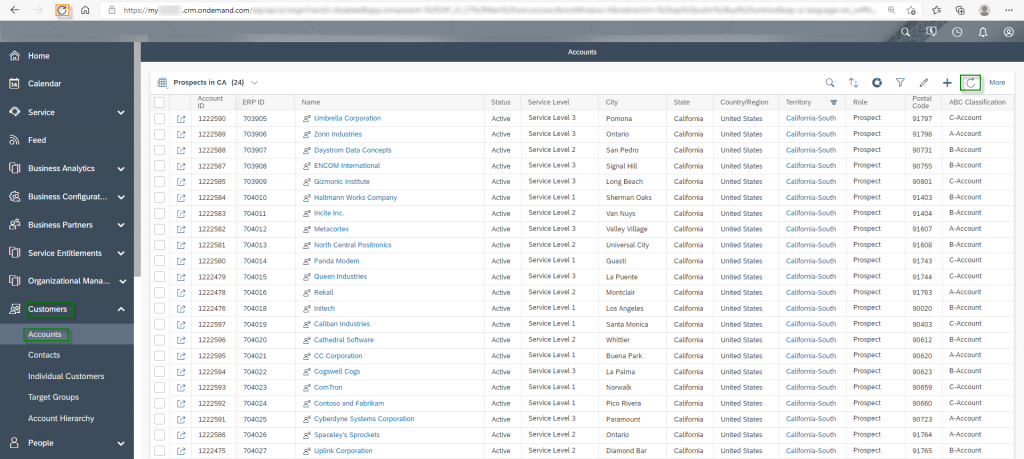 You should not use the refresh button of your browser for this, because here the complete website is reloaded and this takes much longer. You really only need this button if the Administrator changes something in your profile and the cache of your Browser has to be reloaded.
The Customer Experience team at Camelot ITLab deals with exciting and challenging CRM related topics every day and serves a large portfolio of different customers from a wide range of industries. Trust in this collaboration and feel free to contact us at tlil@camelot-itlab.com.
Was this article helpful?
If you like our content we would highly appreciate your review on Trustpilot
#SAP C4C #SAP Cloud 4 Customer #Cloud 4 Customer #Cloud for Customer #Sales Cloud #Basics #Home #Refreshing