Users and Organization Structures Organization Structures
You can manage users and the organizational structure in the SAP Cloud. This is not only important for the authorization structure and management of users, but also for reporting lines
Navigation for Users and Organization Structures
Before starting to build up the Organization Structures, it is important to understand the SAP terminology of sales organization, sales office and sales group.
Sales Organization
A sales organization represents the selling unit as a legal entity, which includes to negotiate terms and conditions with the customers. On the one hand the sales organization is responsible for the sale and on the other hand for distribution of goods and services.
Sales Office
A sales office is a physical location – which could be for example a branch office – that has responsibility for sales of certain products within a given geographical area. You can assign multiple sales offices to one sales organization.
Sales Group
A sales group is – as it says – a group of sales employees who are responsible for sales of certain products. You can assign multiple sales groups to one sales office. Assuming that a sales office is selling three different products – which are completely different in their technology and in the way someone should deal with customers, it could makes sense to have three sales groups.
With this conceptual certainty, it is now easy to create the organization in SAP Sales Cloud.
Imagine you own the company "Headphones & Headsets Holding" – short: HHH. You have three locations: HHH – America based in Houston, Texas, HHH – Europe based in Luxenburg and HHH – Asia based in Beijing. HHH – America distributes the H1 and H8 products in two respective responsible divisions. At the same time, marketing for the entire company is conducted from Houston. In the European market, your company is still quite new and is trying its hand at selling the H4 product. HHH – Asia also sells products, but H2 and H6 in two different departments. At the same time, in Beijing, the service and repair is made for all products of the company. Check following figure to understand the organziation.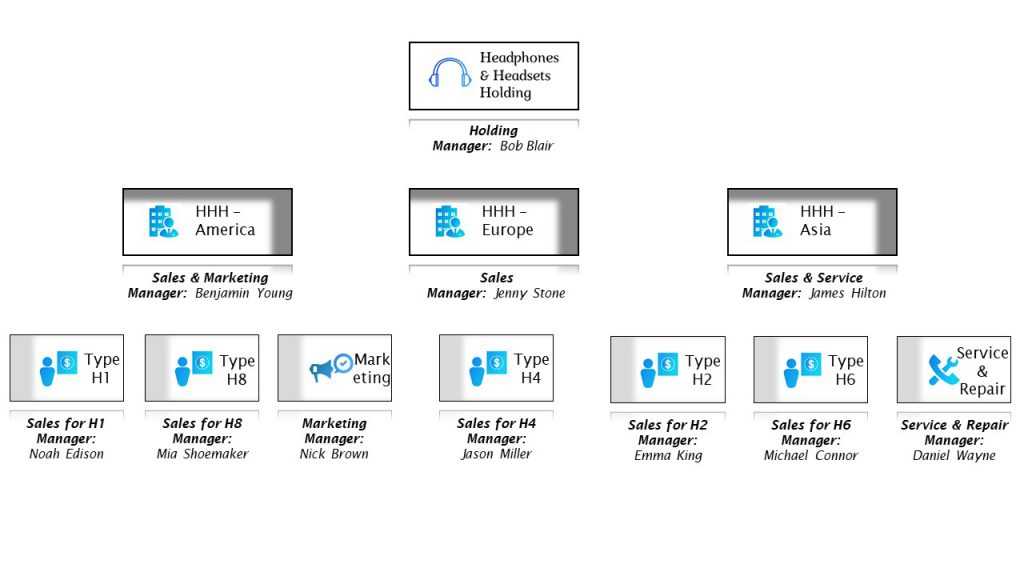 1.1. Creation of an Org. Unit
To bring your company in SAP Sales Cloud, please navigate to the Organizational Management Workcenter and then click on the view Org Structures. Let's start from scratch and click on the New button and then on Org Unit.

For each Org. Unit you will create, a form will be shown where you have to enter following information:
ID and Name of the Org. Unit
Validation time
Hierachy links
Adress information
Organization settings, if the Org. Unit is a Office, Group, etc.
Relevant for Reporting Line (Yes/No), which is neccassary for approval Tasks
Manager
Next, you will find two examples of your company Headphones & Headsets Holding.
Example:      Headphones & Headsets Holding
For ID and Name of the Org. Unit, it is fine to use the short and the full name of the Company. In general you can choose the ID as you want or as you have it in your ERP-System. Since the company was founded on the first of January 2000, we choose this as the start date for the validation. According to the organization chart, the Holding is the top of the company and therefore has no Parent Unit. After filling in the adress information, you can set all applicable organization settings to active. In this case it will be a Sales Organization, which will automatically activate Sales indicator. As a very last step you can assign the CEO Bob Blair to this Org. Unit.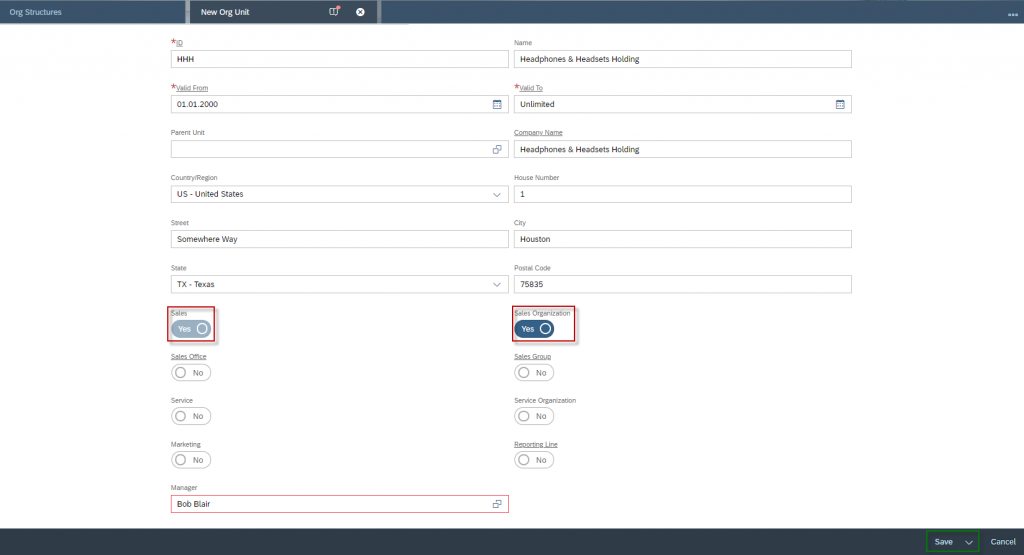 Example:      HHH – America | Department Service
As a next ecample lets pay attention to the service department in Beijing. The procedure here is very similar to the Holding example. Besides the ID, names, validation and address data, the difference here is the responsibility for service, which is why the service indicator is activated here.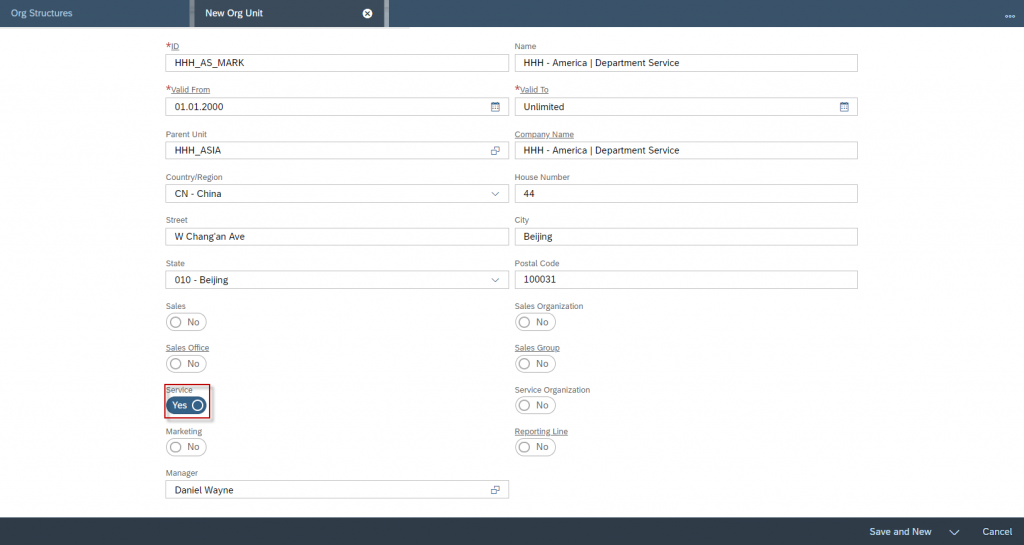 1.2. Adjusting of an Org. Unit
After the org. unit has been created, further specifications can be made in the edit mode. These are the four setting options General – where further address information and the hierarchy can be maintained – Functions – where the setting of the sales, service and marketing structure can be maintained, Employees – where the managers and employees of this org. unit can be stored – and the Sales Data Restriction – where you can restrict the sales data maintenance for an account and an employee.
You are able to edit an Org. Unit when you navigate to Workcenter Organizational Management and then click on the view Org Structures. Here you will find the list of all Org. Units which you just created. Click on the Open Object Detail icon  of the Org. Unit which you like to edit.
General
Here you can further store address and contact information, such as phone number, email and website.
Functions
Here the function of the Org. unit can be adjusted. Since companies also transform themselves, this is a good and important setting option. What is important in the further setting is the setting according to the currency. For each sales document – which is created in this SAP Sales Cloud system – this currency is assumed as default for this Org. unit.

Employees
The assignment of managers and employees can be made in the Employees tab. When assigning Managers, it is important to know that there can be only one Manager at a time. If this Manager is replaced by a new Manager, simply set the Valid To date to today and maintain the new Manager with today's date on Valid From.
In the map of employees you will see a list of all employees in this Org. Unit. You can use Actions to remove the employees and enable and disable the Primary property. The Primary property, when deactivated, allows an employee to be assigned to more than one Org. Unit. This function is useful when a sales manager is distrubuting in mutliple sales groups.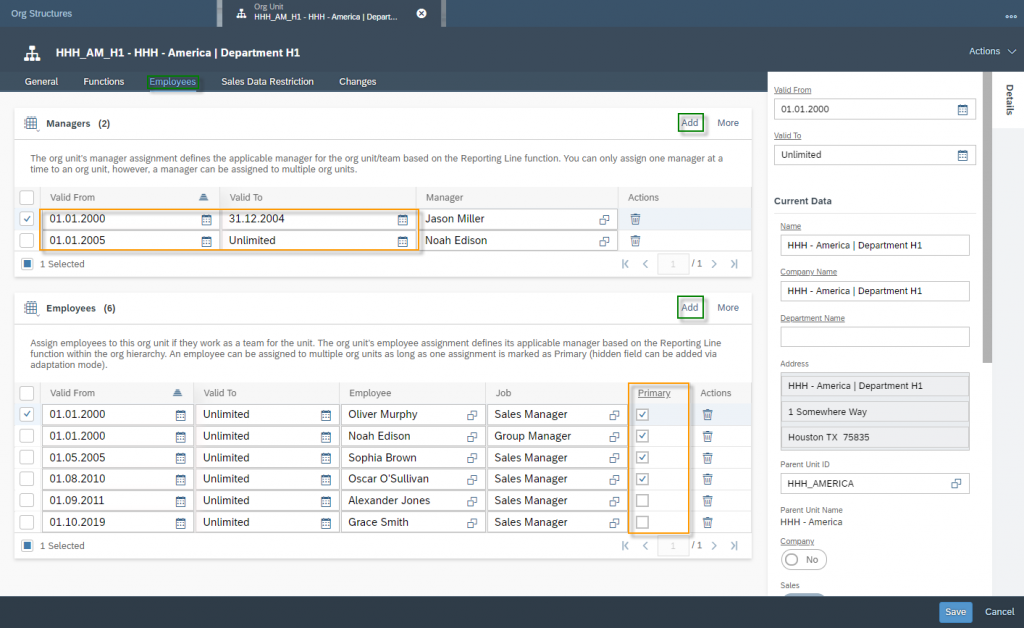 After all the assignments have been made, the final result for Headphones & Headsets Holding now looks like this:

A plant organises the planning, procurement and distribution of goods and services to the customer or other plants within an organisation – such as in the Cross Company Process. A plant is a physical location where valuated inventory is located. The following three types of plants are available:
Production plant: Production of Products
Inventory plant: Management of the inventory of products
Maintenance plant: Maintenance of products
A plant can be defined in the Work Center Organizational Management, Work Center View Org Structures. Simply create from the OWL a new Org Unit and define it as a Plant (see below figure). Make sure that your Org Unit is not set as Sales, Service nor Marketing, otherwise the Plant Indicator will be greyed out.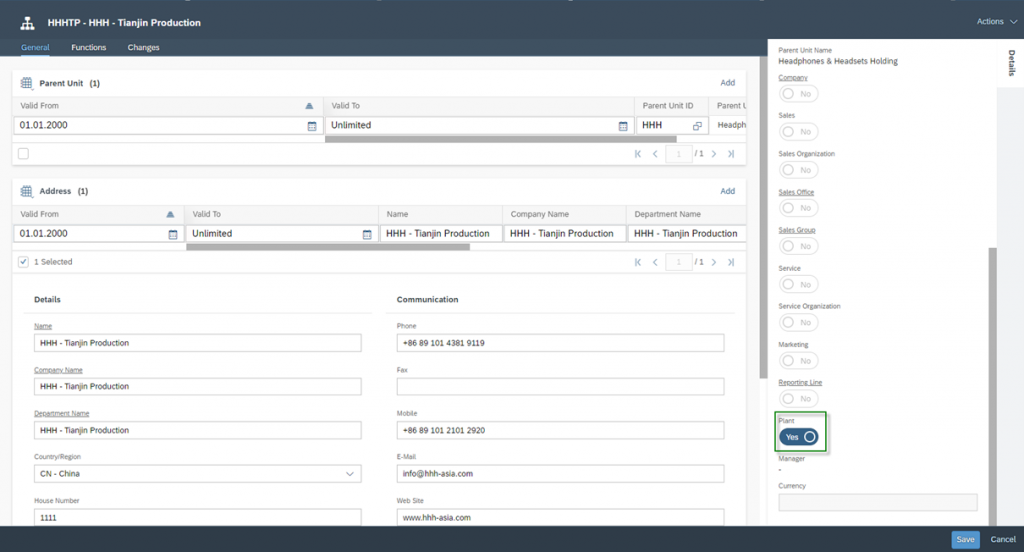 The Customer Experience team at Camelot ITLab deals with exciting and challenging CRM related topics every day and serves a large portfolio of different customers from a wide range of industries. Trust in this collaboration and feel free to contact us at tlil@camelot-itlab.com.
Was this article helpful?
If you like our content we would highly appreciate your review on Trustpilot
#SAP C4C #SAP Cloud 4 Customer #Cloud 4 Customer #Cloud for Customer #SAP Sales Cloud #Sales Cloud #Sales Organization #Sales Office #Sales Group #Org. Unit