Understand The Basics as a User
Home Page
If you are using SAP Sales Cloud as a User, it is essential that you understand the basics before you go into detail. Basically, it's important to understand how the Cloud is structured, how you can quickly find information - i.e. Search and Filter - how to personalize your information so that you can work with it perfectly and how to use the Feed function, Calendar and Messages.
Navigation for User - Understand the Basics
The Home Page is the landing page when a Business User logs into SAP Sales Cloud. This Home Page can be used to give a User an overview of their data in SAP Sales Cloud – as a kind of dashboard system. Here, too, each user can personalize his Home Page individually – but in general, the Administrator determines what the user is allowed to display and what not. Various elements can be displayed here: Kanban Systems, KPIs, Reports, News, Filters, Key Figures, etc. You can also use the Home Page to get a good overview at any time.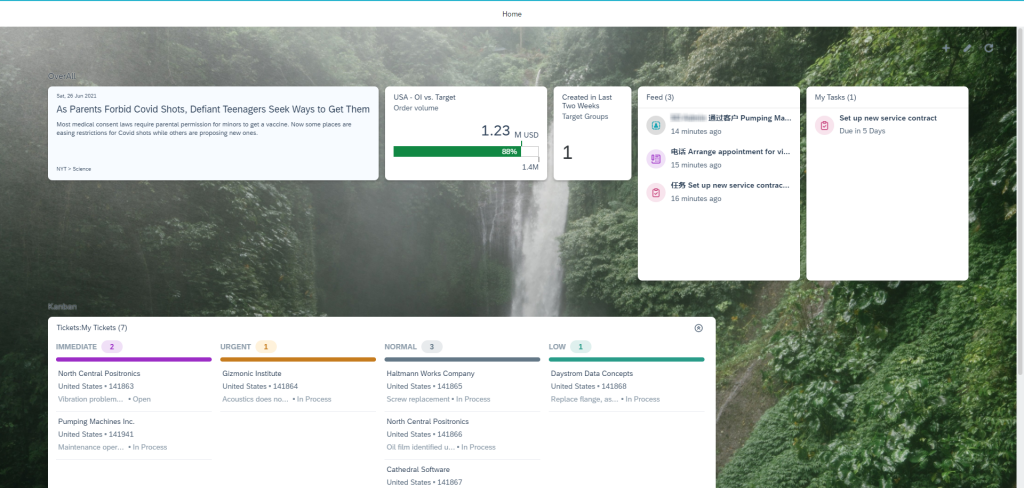 The Customer Experience team at Camelot ITLab deals with exciting and challenging CRM related topics every day and serves a large portfolio of different customers from a wide range of industries. Trust in this collaboration and feel free to contact us at tlil@camelot-itlab.com.
Was this article helpful?
If you like our content we would highly appreciate your review on Trustpilot
External Image Source: https://www.pexels.com/de-de/foto/erstaunlicher-wasserfall-mit-uppigem-laub-auf-felsen-4534200/
#SAP C4C #SAP Cloud 4 Customer #Cloud 4 Customer #Cloud for Customer #Sales Cloud #Basics #Home #Page #HomePage