Users and Organization Structures Check User's Authorization
The Check User's Authorization function provides the ability to check and compare authorization settings for a specific business user and object ID.
Navigation for Users and Organization Structures
To do this, navigate to the General Settings view under the Workcenter Administrator. Here you can click on the button Check User's Authorization under the tile Users.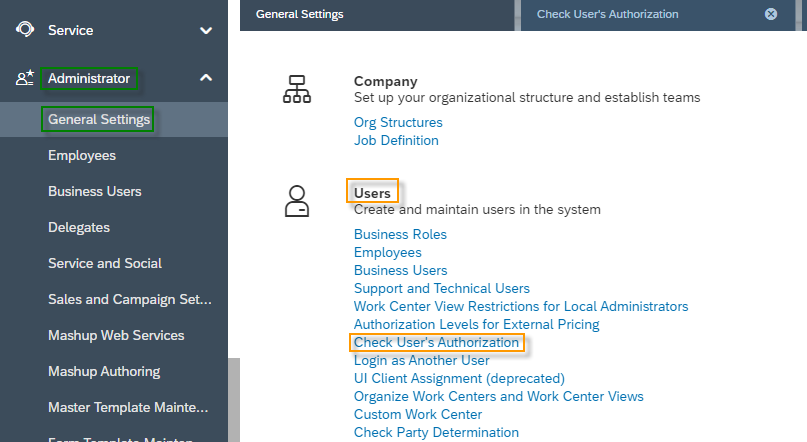 Enter the ID of the business user, the object ID and the object type. If you select the Authorized Hierarchy checkbox, the User Access tab will provide you with detailed information about the derivation of the authorization based on the hierarchy. In our example we will check the authorization for Benjamin Young – Manager for America. We compare the authorization of Mr. Young and the offer 104841.
The Document tab provides information about which relevant information is stored in the document – in our example, the offer 104841 – which is used to derive the authorization. Since the Access Context 1015 – Employee, Territory, Account, Sales Data is defined for the offer, you will find details here about which related data for this Access Context is stored in detail in the offer 104841. For example, you can see that Territory 161 – United States – is used for the derivation of the authorization.

Now – that you have an overview of the settings of the offer – you can use this information to switch to the User Access tab. Here you get an overview of all authorization settings of the business user Benjamin Young. Especially if an authorization would result from several smaller roles, the User Access tab offers a fantastic overview. You can now check every attribute – which was listed for in the Documents tab – with the authorization of the Business User. A comparison with the territories shows that Mr. Young has authorization on that offer 104841, because he has access to the sales territory 161 – United States.

The third tab Document Access is just another view of the tab Document.
The Customer Experience team at Camelot ITLab deals with exciting and challenging CRM related topics every day and serves a large portfolio of different customers from a wide range of industries. Trust in this collaboration and feel free to contact us at tlil@camelot-itlab.com.
Was this article helpful?
If you like our content we would highly appreciate your review on Trustpilot
#SAP C4C #SAP Cloud 4 Customer #Cloud 4 Customer #Cloud for Customer #SAP Sales Cloud #Sales Cloud #Check #Users #Authorization