Users and Organization Structures Support and Technical Users
There are also two more kind of users: Support and Technical Users, which allows to run the SAP Sales Cloud as a SaaS.
Navigation for Users and Organization Structures
A Technical User is a type of user for non-interactive usage. There are two different types of technical users. The first ones are predefined by SAP for technical operations. One example is the technical User "SAP_SMTP_IN", which operates all incoming E‑Mails for Service-Tickets. The second ones are resulting from the creation of communication arrangements – the best example here is the communication between SAP Sales Cloud and ERP System, where the User is called "_ERP_PROD".
A Support User is a type of user for interactive usage used by SAP to access the system for incident processing. Which means whenever you create an incident for SAP, the Incident Manager can access your system by using a support user. 
Both can be found in Work Center Administrator, View: General Settings, Tile: Users and then click on Support and Technical Users.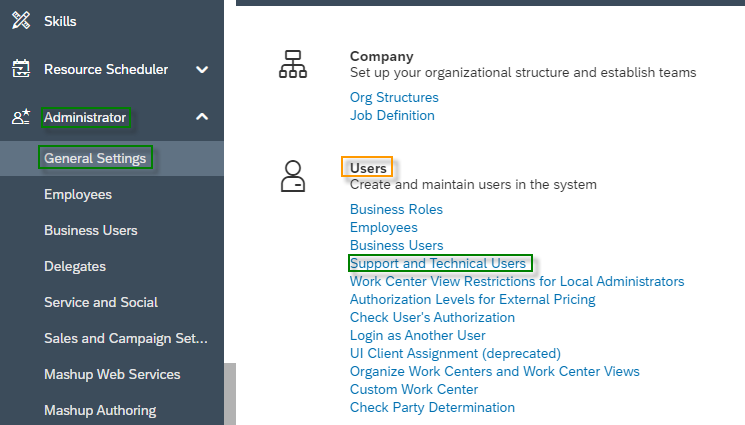 The Customer Experience team at Camelot ITLab deals with exciting and challenging CRM related topics every day and serves a large portfolio of different customers from a wide range of industries. Trust in this collaboration and feel free to contact us at tlil@camelot-itlab.com.
Was this article helpful?
If you like our content we would highly appreciate your review on Trustpilot
#SAP C4C #SAP Cloud 4 Customer #Cloud 4 Customer #Cloud for Customer #SAP Sales Cloud #Sales Cloud #Support User #Technical User