Users and Organization Structures Local and Global Administrator
It is clear to everyone that the larger and more global a company is or becomes, the more IT support is needed. So, of course, also for the SAP Sales Cloud. When implementing the cloud, it is necessary to think as early as possible about not only a key user structure but also an administrator structure.
Navigation for Users and Organization Structures
Key User
A Key User is a person in a defined organization who specializes in a software and is considered the primary contact for the software in that organization. The key user knows the work processes and requirements from his organization very well, because he is mainly working as a permanent employee in this organization and the key user role is an additional role for him. In practice, a key user is not considered to be working 100% of his time in the organization so that he can still fulfill his activities as a key user. A good rule of thumb is 80% activity in the organization and 20% as a key user. The work of the key user is essential to work in a solution-oriented way. To drive usage, he acts as a trainer, coach, multiplier, and ambassador, among other things. The key user reports to the local administrator and forwards issues – which he cannot solve – to him.
Local Administrator
A local administrator is the expert for a location and solves – as a kind of 2nd level support – all concerns of the key users. He organizes regular meetings with all key users – every 2 or 4 weeks should be norm – and discusses not only current issues, but also further development opportunities. In practice, the local administrator is organizationally located in the IT department. Whether this employee works full-time or not in this role depends on the size of the organizations under him. As a rule of thumb, an administrator for SAP Sales Cloud can handle between 100-200 users – as the concerns of these many users are filtered through the key user and brought to him. The global administrator and IT management should determine exactly which activities the local administrator should manage and which should be passed on to the global administrator.
Global Administrator
The global administrator is considered the central contact for the software throughout the entire company. He organizes regular meetings with the local administrators, develops the system, maintains contact with SAP or a consulting company and reports to management. In practice, global administrators have access to everything in that system. The global administrator is a permanent employee in the IT department. Depending on requirements, this person also covers programming or forwards it to an internal or external colleague.
Let's come back to Headphones & Headsets Holding and how they could be organized. As you can see in the figure below the company decided to have one key user per sales group, which makes sense since each sales group can have different requirements to SAP Sales Cloud System. For each sales office you have one local Administrator who is catching up with the Key Users. Since the local administrator in HHH-America is responsible for three sales groups, he will be much busier with C4C tasks than the local administrator in HHH-Europe. The local administrators in turn report to the global administrator – who is located at the headquarter.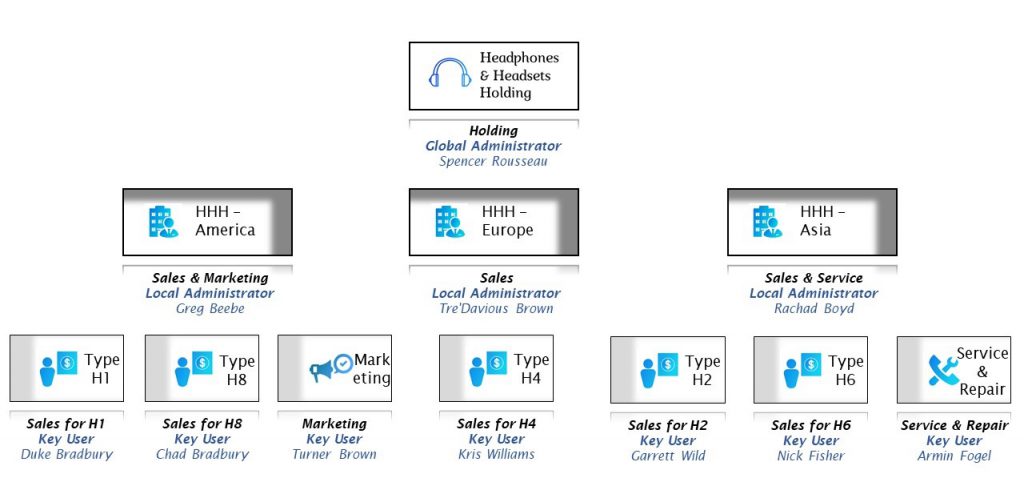 The differentiation between a local and a global administrator is made via the business roles. Following Work Centers should only be used by an Administrator:
Administrator
Business Analytics
Business Configuration
Data Protection and Privacy
Data Workbench
E-Mail Integration
Organizational Management
Service Control Center
Service Entitlements
The only views out of these Work Centers which you can restrict are the following:
Work Center

Work Center View

Access Context

Administrator

SAP Commerce Cloud

5 – Service Unit

Groupware Settings

32 – Internal IT Support

Employees

2008 – Org. Unit

Delegates

2008 – Org. Unit

Business Users

2008 – Org. Unit

E-Mail Integration

Groupware Settings

32 – Internal IT Support

User Settings

1004 – Personal Work

In all other views the local Administrators will have full access rights. So as mentioned before you should think about what tasks should be fulfilled by a Local Administrator before you assign views or whole Work Centers to them. Another important point is the Adaption Mode, which can be controlled by the view Flexibility Change Log under the Work Center Administrator. If you do not want that local Administrators can adapt layout changes, then you should remove this view from there access rights.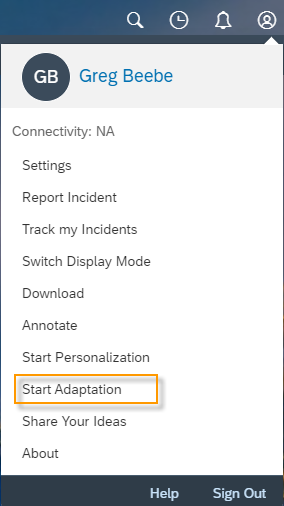 The Customer Experience team at Camelot ITLab deals with exciting and challenging CRM related topics every day and serves a large portfolio of different customers from a wide range of industries. Trust in this collaboration and feel free to contact us at tlil@camelot-itlab.com.
Was this article helpful?
If you like our content we would highly appreciate your review on Trustpilot
#SAP C4C #SAP Cloud 4 Customer #Cloud 4 Customer #Cloud for Customer #SAP Sales Cloud #Sales Cloud #Administrator #Local Administrator #Global Administrator #KeyUser