Data Workbench
Account Hierarchy Update
This article explains how to update the Account Hierarchy/ the field parent account by using the data workbench.
Navigation for Data Workbench
First of all an excel-file needs to be prepared. Keep in mind that it has to be a CSV-file with UTF-8 coding. In this document fill in the information for the AccountID (of the Sub Account) and the ParentAccountID. It should look like this: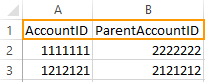 Once the excel-file has been prepared head over to the CRM system into the Import area. Select Individual Object, the operation Insert (not Update) and the object Account Hierarchy. Then click Next in the bottom right of the screen.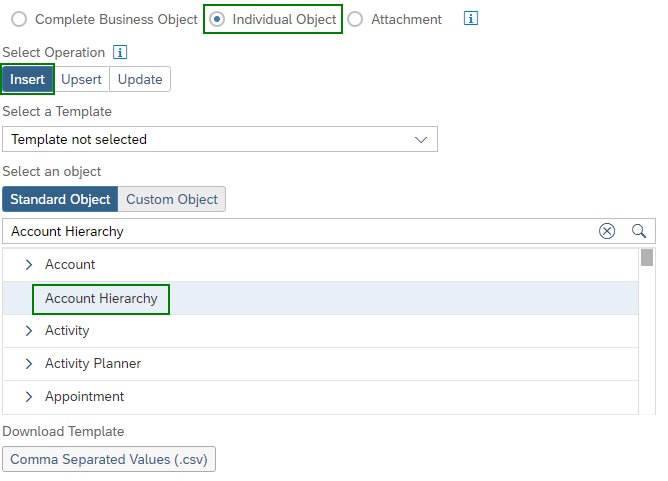 In the next screen the CSV-file has to be selected by using the Browse button. After that has been done click Upload and you'll get an overview table with the data from the file. You may have a quick check for mistakes and then continue by again clicking Next.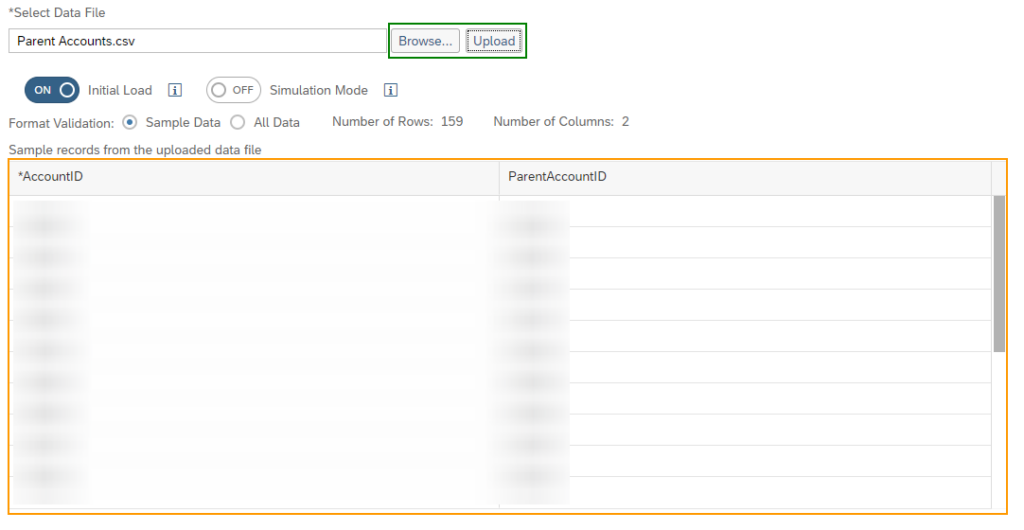 The mapping, which will be displayed in the following screen, should look something like this:

Move on by once again selecting Next and already the last screen will be displayed. There you can upload your data by clicking the Import-button. At last head over to the Monitor, wait for your upload to finish and watch out for any warnings or errors.
Once the update has been made you can check the Accounts, if everything has worked out. For the parent accounts have a look at the tab Account Hierarchy, there now should be a chart of the hierarchy.

When looking at the Sub-accounts look for the field Parent Account, it now should contain the name of the parent account with hyperlink to it.
The Customer Experience team at Camelot ITLab deals with exciting and challenging CRM related topics every day and serves a large portfolio of different customers from a wide range of industries. Trust in this collaboration and feel free to contact us at tlil@camelot-itlab.com.
Was this article helpful?
If you like our content we would highly appreciate your review on Trustpilot
#SAP C4C #SAP Cloud 4 Customer #Cloud 4 Customer #Cloud for Customer #Data #DataWorkbench #Workbench #Import #Export #Monitor #Administrator #Account #AccountHierarchy #Update