Keep an Eye on your Competitors
In times of digitalization and globalization, there is increasing competitive pressure. Today, the trump card is held by those who know competitors and customers equally well. For every company, it is a challenge to identify new market opportunities and to stand out positively from the competition.
Navigation for User - Competitors
In SAP Sales Cloud you can manage your competitor data and monitor it in your sales opportunities. You can also closely monitor your competitors' products and compare them with yours. In the Work Center Competitors, you will find the Work Center Views Competitors and Competitor Products.

To have a complete view of sales opportunities and competitive pressure in your market, you should work with the Business Object Competitor. This business object is structured similarly to an Account and it is recommended to read Chapter SAP Sales Cloud – C4C Is Easy – Get a 360° Customer View before reading this chapter.
1. Creation and Information of Competitors
In the Work Center View Competitors, you can create a new competitor by clicking the Create Icon 

. In the creation screen, enter the basic data such as Name and Address. Use the Classification field to classify the competitor. In this field you will find the entries Low Threat, Medium Threat and Big Threat. Confirm your adjustments with the Save Button. With the save a Duplicate Check is triggered. The function of duplicates is explained in detail in the following chapter SAP Sales Cloud – C4C Is Easy – Duplication Check.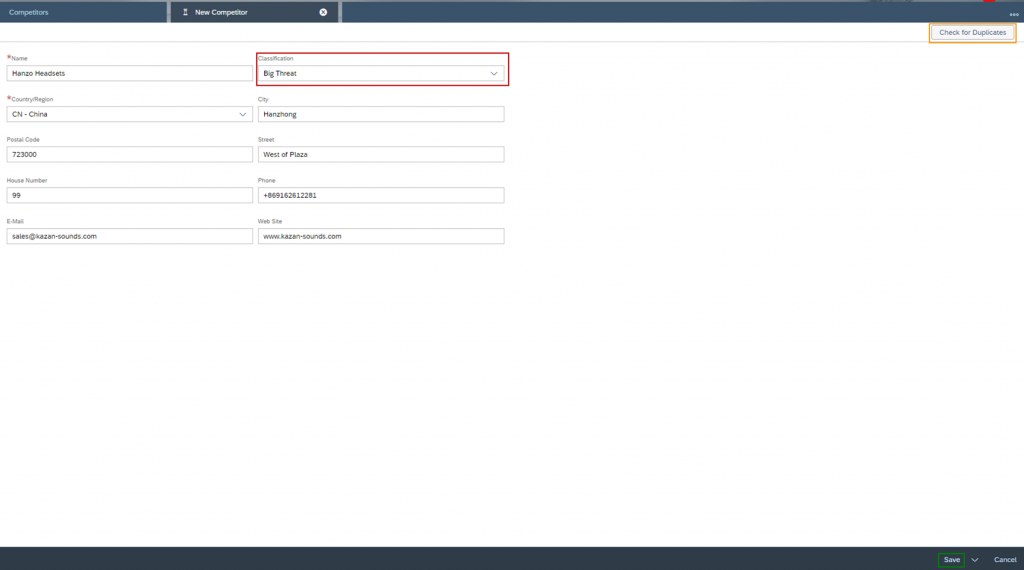 In the Business Object Competitor, you will find the following information:
Overview of Opportunities where the Competitor is involved
Competitor Notes
Attachments
Feed
Relationships to Business Partners
Competitor Products (Tab: Products)
Overview of related Sales Organizations (Tab: Sales)
The Status of a competitor can be set to Obsolete, Blocked or Active via the Action button. The image of the competitor can be added under Actions as well.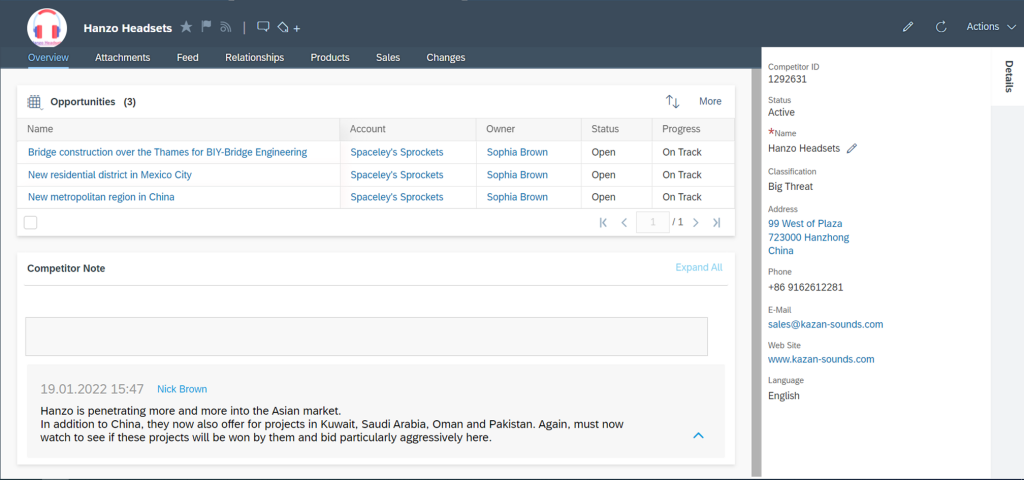 2. Creation and Information of Competitor Products
In addition to monitoring competitor behavior, you should also closely monitor the products and service of your fellow competitors. A well-known example of competitive behavior in the product area can be found, for example, between Apple and Samsung. Both are constantly trying to outperform each other in the mobile phone sector and trying to have the better product on the market. The same is true in many other industries.
In SAP Sales Cloud, you can manage your competitors' products and closely monitor which products are offered in which opportunity. In the Work Center View Competitor Products, you get an overview of all these information.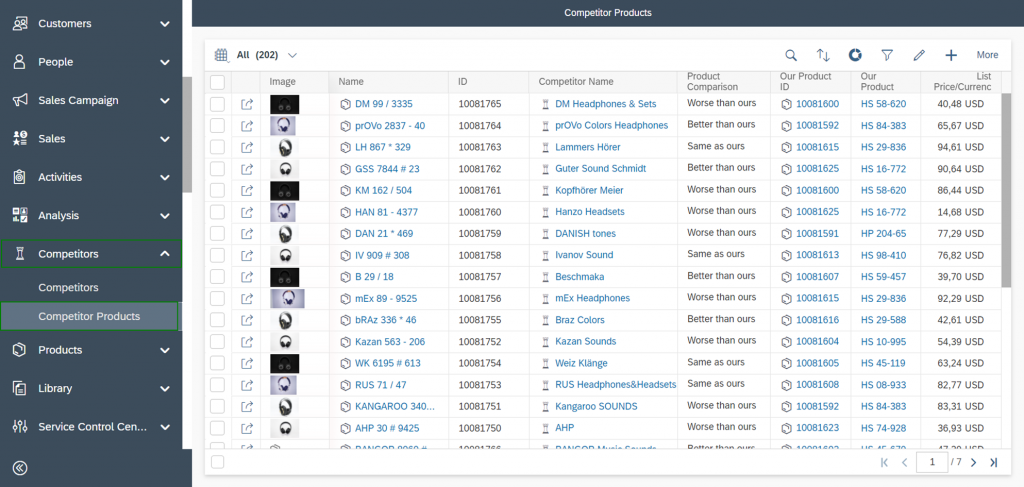 In the Work Center View Competitor Products, you can create a new competitor product by clicking the Create Icon

. In the creation screen, you should enter following information:
Name Enter the Name of the competitor Product
ID You can enter a Competitor Product ID here, but leave this field empty so that the system automatically assigns an ID
List Price/Currency To compare your products with those of the competitor, you can also specify the price. Remember to keep the prices up to date so that your sales team does not get the wrong impression
Product Comparison This field is a type of classification that you can make yourself. You can decide whether the Product Comparison is: Better than ours

,

Same as ours

or

Worse than ours
Competitor Specify to which competitor the product belongs
Our Product             Enter your comparable product
Confirm your adjustments with the Save Button.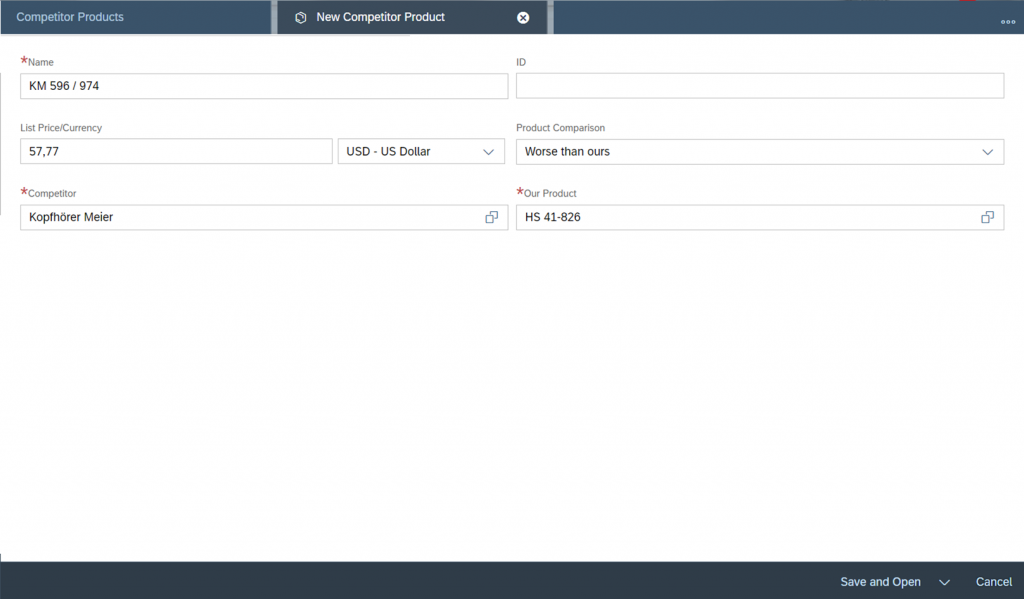 In the Business Object Competitor Products, you can add additional Information about this product via Notes or Attachments. It is also possible to add an Image of the Product via the Actions Button. This product can have two different statuses either Active or Blocked. Both are available under the Actions Button. You can also adjust the Base Unit of Measure for this product as well as making the decision if it is a Top-Selling Product in your market. In the figure below you can see how the business object is structured. It is comparatively small compared to other business objects in SAP Sales Cloud. However, it contains all the information you need to closely monitor your competitors' products.

3. Usage of Competitors of Competitor Products
You can link your Competitors and Competitor Products to either sales opportunities or your customers. This connection helps you to plan the needed sales activities, when you see that certain competitors are bidding on an opportunity or when you know that a customer is also buying products from other competitors.
To connect a Competitor to your Customers you can use the Relationship Type Is Connected with Competitor. In Relationship tab of the Business Object Account, you will find the Overview of all Competitors connected with this specific account. In the shown example three competitors. Right below this section you can add Competitor Products of the selected competitor. This gives your sales representative a quick and complete overview of the competitive pressure on this customer at any time.

The reporting in C4C gives you extended possibilities to create analyses. Use the Business Partner Relationship data source to analyze how your competitors are distributed. For example, you can check how they develop, in which countries these competitors are distributed or even the distribution by customer classifications. The visualization below shows an example dashboard to analyze the behavior of competitors.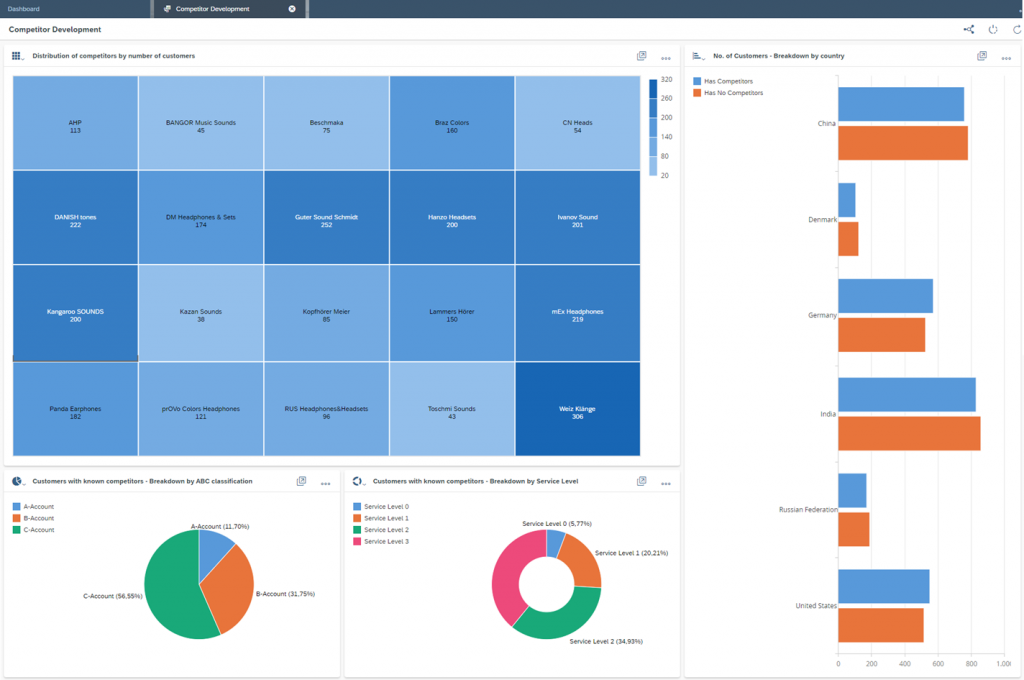 The second usage of Competitors and their products are in the Business Object Opportunity. This gives you the knowledge to make the right sales decision when you know that your customer is also in contact with other companies. You have the same functionality here as in the Business Object Account. You can Add new or remove no longer relevant ones in the Competitors tab and track the products of the competitors by adding relevant products for this opportunity via the Add Row button.

With the Opportunity Header and Item data source or the ready-made Competitors by No. of Deals report you can analyze sales opportunities where competitors of yours are also working on. Thus, together with your sales management, you can make the right decisions to win the opportunity even under high competitive pressure. The figure below shows a possible dashboard to do that.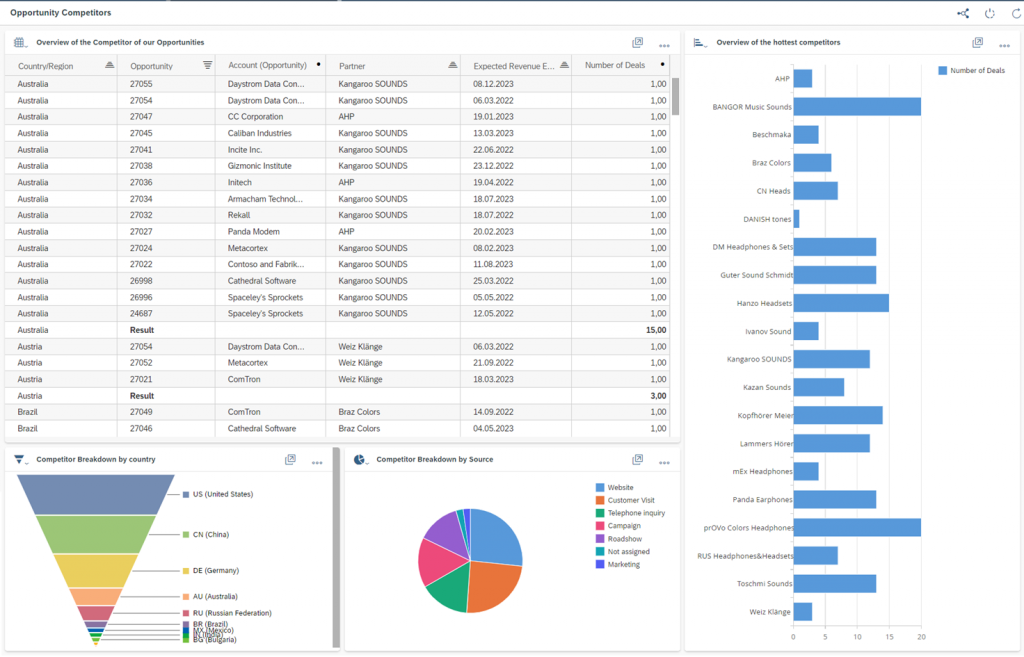 You can also use Competitor or Competitor Product related Surveys in the Business Objects Opportunity, Leads, Phone Call, Sales Quote, Ticket and Visit. This gives you the possibility to get current information about the competitor behavior.
The Customer Experience team at Camelot ITLab deals with exciting and challenging CRM related topics every day and serves a large portfolio of different customers from a wide range of industries. Trust in this collaboration and feel free to contact us at tlil@camelot-itlab.com.
Was this article helpful?
If you like our content we would highly appreciate your review on Trustpilot
#SAP C4C #SAP Cloud 4 Customer #Cloud 4 Customer #Cloud for Customer #SAP Sales Cloud #Sales Cloud #Competitor #Competitor Products #Products #Low Threat #Medium Threat #Big Threat #Competitor Name #Product Comparison #Our Product #Better than ours #Same as ours #Worse than ours